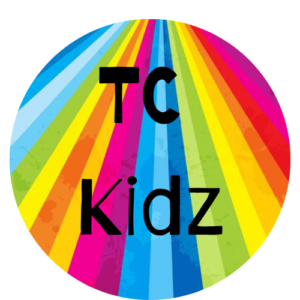 Our children's ministry is designed for children Infants, Preschool, Elementary, and PreTeen children. We desire to help children grow in their knowledge of Jesus and in their faith. Our main purpose is to partner with parents and families in raising Godly children who are committed to serving others through the local church.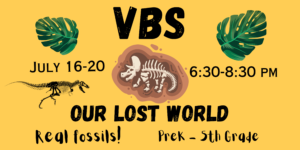 We will have a time of worship together, hearing from God's Word, view real dinosaur fossils, games, crafts, snacks, and hearing from a Creation Expert from Creation Truth Foundation (Noble, OK).
VBS is for children who have recently completed PreK – 5th grade. VBS will be held Sunday, July 16 – Thursday, July 20 each evening from 6:30-8:30 pm.
Parents/grandparents and older siblings are invited to join us in the sanctuary each evening during our VBS program, after the opening session, for a special Apologetics Discussion with Matt (from Creation Truth Foundation). This will be during the time our VBS attendees (children) are doing their rotations through snack, games, crafts, etc.

SUNDAY MORNINGS
Bible Study
We offer Bible Study classes for
various age groups of children.
Preschool & Elementary
These take place during our morning worship hour and are modeled after "big church".
Each class is planned with your child in mind and are age appropriate with worship, lessons, and activities.
A nursery for infants & toddlers is available during both hours on Sunday morning. We have trained, loving volunteers to care for your children while you enjoy a Bible Study and morning worship

.
WEDNESDAY NIGHTS
Wednesday Nights are winding down for this school year! Join us from 6:30-7:30 pm for TC Kidz. Our doors open at 6:00 pm for "Hall Games", a time of fellowship with each other and leaders through games that are only available during this time.
This semester we are participating in small groups on Wednesday nights.
Be sure to check our calendar for our Summer Series Activivites!