CURRENTLY NOT MEETING.
WILL RESUME IN THE FALL.
This group of men meet each Sunday morning at 7:00 am to study "The Quest for Authentic Manhood". This semester's topics include
S
easons of a Man's Life • Uncovering a Man's Wounds • Defining Manhood • Deepening the Marriage Relationship • Raising Sons and Daughters • Developing a Manhood Plan.
It's never too late to join.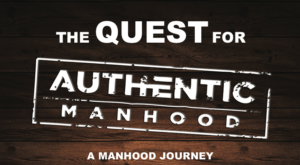 Once a month our men take time to prepare breakfast for each other, fellowship, and share in God's Word together. Men's Breakfast is the 1st Sunday of each month at 7:00 am. If it falls on a holiday weekend, the date is adjusted.
Every 3 months, men invite their families to join for a Family Breakfast.